Manaslu Circuit Trek
Duration
16 days
Altitude
5,106 Meter
Best Seasons
Spring & Autumn
Accommodation
hotel, tea-house
TRIP HIGHLIGHTS
A private Jeep ride from Kathmandu to Machhakhola; exploring remote villages; and walking along the beautiful mountain river Budhigandaki river bank, crossing frequently to the swinging bridge.
Pass through beautiful villages, valleys, and especially the grass land of Yak and Sheep touch the snow and frost line Larkya-La-Pass (5,106m) with adventure experiences
Spectacular views of the world's eighth-highest peak, Mt. Manaslu (8,163m), Mt. Annapurna II (7,937m), Mt. Ganesh (7,422m), Mt. Himchuli (6,441m), and many other peaks
The main rivers on the Manaslu Circuit Trek:
Budhi Gandaki River: a popular place for fishing
Marsyangdi River: a popular spot for rafting and kayaking
Dudh Khola River: view point of lush forest, snow-capped peak, waterfall, beautiful landscapes
Syar Khola River: a popular place for fishing
The stunning valley exploration on the Manaslu Circuit Trek:
Budhi Gandaki River Valley surrounded by steep cliffs and lush green forest
A side valley, Nupri Valley, the home to Nupri people originated from Tibet, their distinct culture and lifestyle
Tsum Valley: a high altitude valley
Deng Valley: a valley of lush green forest and traditional villages
Century old Buddhist monasteries that trekkers can visit on the Manaslu Circuit Trek:

Shringi Gompa: beautiful architecture and intricate wood carving Gompa
Mu Gompa: the oldest and lagesy monastery with beautiful architecture and wall painting, the home to more than 100 monks
Lho monastery: famous for stunning view of Manaslu mountain range, popular site for local and external tourists
Sama Gompa: famous for stunning view of Manaslu mountain range, popular site for local and external tourists

The diverse flora and fauna you encounter on this trek:

Flora: Colorful and vibrant rhododendron flower, Evergreen and tall juniper tree, pine tree, bamboo tree, wildflower (primrose, asters, gentians), etc.
Fauna: rare creature snow leopard, Himalayan tahr, small musk deer, Himalayan Manal, goden eagles

Meet the semi-cultural Tibetan peoples, Gurung, Nepalese culture, witness unspoiled hospitable culture
Experience the culture of the Nuri people on Nepal's border of Tibet at the same time
TRIP OVERVIEW
One of Nepal's most famous treks, the Manaslu Circuit Trek, is well known worldwide that provides you a perfect blend of natural and cultural wonders. It is referred to as the hidden Himalayan treasure and is located in the western part of Nepal and to the north of Nepal's capital city, Kathmandu. It takes around 16 days to complete and covers a distance of approximately 177 kilometers.
In 1991 A.D., this trek was made available to citizens of other countries. Both internal and external guests can participate in this program. It is also a restricted trekking path that requires a special admission permit card from TIMS (Trekkers Information Managements) as well as permits from the Manaslu Conservation Area Permit (MCAP) and the Annapurna Conservation Area Permit (ACAP). Because of the restricted nature of this journey, each passenger need to get a special trekking permit that is used in conjunction with an authorized local trekking guide. Single permits are not given out. It is not friendly for the solo traveler.
Manaslu Circuit Trek is high route trek where the trekkers start this trek at 930m at Machha-khola in Budhigandaki river valley Gorkha district, touch the snow and frost line Larkya-La Pass (5,106m), which is the highest pass in this trail, and finish it at Dharapani (1,925m) in Marshyangdi river valley Lamjung district.
The peacefulness of heaven is the Manaslu Circuit Trek. This path is not just a place where people go trekking and see the mountains and peaks. The traveler can observe century-old Buddhist temples, vibrant prayer flags, typical Chortens, organic farmland, and more in this area. It takes you through picturesque villages, diverse landscapes, elevations, ethnic groups, unique cultures, lifestyle of the local people, lush forests, terraced fields, waterfalls, highest passes, and stunning snowcapped mountains, making it truly memorable experience. When traveling across the 5,100-meter pass, you may take in the breathtaking view, the locals, and their rich culture. The Manaslu Circuit Trek offers hikers a chance to witness a variety of climate zones, from tropical hot low land (700m) Budhigandaki river bank to arctic cold high elevation snow and frost line Larkya-la pass at (5,106m) altitude, before descending to Marshangdi river bank and concluding it at Dharapani check post (1900m), from which the world-famous Annapurna Circuit Trek commences. It is advisable to acquire information before beginning the Manaslu Circuit Trek.
Although the dining and lodging are relatively similar to those in the Everest and Annapurna regions, we can still comfortably take a Tea House trek. It is also possible to join the Annapurna Circuit Trek once you have climbed the Manaslu. It is up to you whether you drive back to Besi-Sahar and then back to Kathmandu or whether you visit Pokhara after entering the road at the Dharapani checkpoint in the Annapurna region
A side journey to the Tsum Valley during a weekend period The Manaslu Circuit is a clockwise walking path in the Mansiri Himalayan range, which is a part of the popular Annapurna region in the north. In 2008, The Tsum Valley of the Manaslu Circuit Trek, which is located in Nepal's Gorkha district in the northern part of the Manaslu region, was only recently opened to foreign travelers. .
The Manaslu Circuit Trek is situated at the base of Mount Manaslu, the eighth-highest mountain in the world, as well as a number of other snow-covered peaks. The most alluring Himalayan peak that is directly governed by nature is Mount Manaslu. The top of Mt. Manaslu is truly speechless at the early morning sunrise. The Tsum Valley, which requires an additional 5-7 days to explore, is another destination for tourists while trekking the Manaslu Circuit. Tsum Valley is well known for its century-old Buddhist monasteries, typical Tibetans and their way of life, as well as other aspects of the Himalayan people that can be experienced in the modern world.
According to folk legend, Guru Padmasamabhava is believed to have practiced meditation in the past in the remote Tsum Valley. The existence of a few Buddhist temples that are more than a century old, as well as some typical local residences, serves as ample proof of this hidden gem. The inhabitants of Tsum Valley can be recognized as Tibetan Refugees based on their dialect and language due to their incredibly difficult way of life. If you choose to trek in the Tsum Valley, the design of the homes, the residents' manner of life, and the agricultural goods are enough to take you back to the 18th century in the present day. The snow-capped peaks that surround Tsum Valley give it a natural beauty. Sringi Himal and Mount Ganesh Himal are the main sources of the Budhigandaki River.
There are numerous serene and revered meditation centers to be found. Himalayan Thar and Blue sheep are the two most common species of fauna in this region. Since Tibet is a close neighbor and this journey is near its border, Tibetan culture and language have a significant influence on the local population. The majority of the locals are Buddhists, and agriculture is their main source of income. These are the remote areas. Both fishing and hunting are prohibited. Due to the lack of roadways or flights nearby, a helicopter rescue would be the only option. We guarantee that if you come here, you will be transported back in time a century.
You get the snow at the top of Larkya-La Pass (5,106m) and the pass route is lengthy and difficult. So, if you want to trek in Manaslu Circuit, this is the best options to join with the travel agency and afford the perfect licensed Himalayan guide for safety and succeed the journey.
SHORT ITINERARY
Day 1: Kathmandu (1,350 meters) arrival
Day 2: Sightseeing around Kathmandu Valley
Day 3: Drive to Machha Khola (869meters) from Kathmandu
Day 4: Trek to Jagat (1,340meters)
Day 5: Trek to Dyang (1,860meters)
Day 6: Trek to Namrung (2,630meters)
Day 7: Trek to Lho village/Gaun (3,280meters)
Day 8: Trek to Sama Gaun (3,520meters)
Day 9: Acclimatization Day
Day 10: Trek to Samdo (3,860 meters)
Day 11: Trek to Dharamsala (4,460meters)
12: Trek to Bhimthang (3,750meters)
Day 13: Trek to Dharapani (1,963meters)
Day 14: Drive back to Kathmandu by Private Jeep
Day 15: Free Day at Kathmandu
Day 16: Departure Day
Manaslu Circuit Trek Cost
The Manaslu Circuit Trek price varies depending on the level of services, the length of the walk, what is included and what is excluded, vehicles, groups, camping or teahouse, food, lodging, etc. Our company take the Manaslu Circuit Trek cost U$$1,650 per person and at least 2 persons are required. The cost includes all land transport in Nepal, all official work such as TIMS and Permit card, 3 nights hotel in Kathmandu with bed and breakfast, 12 breakfast, 12 lunch, 11 dinner for guest while trekking and also welcome and farewell dinner at Cultural restaurant in Kathmandu. All Nepali staffs' salary, foods and accommodations, insurance for Nepali staffs, transportations for Nepali staffs. We provide the duffle bag pack, sleeping bag and sticks in rent but that is refundable after finishing your trekking. If physical damage happens, you need to pay the total cost of those gears.
The best seasons for Manaslu Circuit Trek
The best months to hike the Manaslu Circuit Trek are October and November in the autumn and April and May in the spring because this trek is in a different temperate zone. The ideal time for comfortable temperatures, favorable weather, and long-distance visibility is during these months.
Many travel agencies specify that this trekking can begin in March in the spring and September in the autumn, which is OK but not as ideal as April and May in the spring and October and November in the autumn.
Foods in Manaslu Circuit Trek
The foods are all quite typical. The menu is placed in front of you on the table, and you can choose the items you want to have. You get noodle soups, omelet items, toast, chapati, Tibetan breads, boiled eggs, and a set breakfast for breakfast. For lunch and dinner, you get Nepali Thali set Dal-Bhat, Mo: Mo's, spaghetti with tomato sauce and cheese, spring rolls, fried potatoes with cheese, and other tourist-friendly variety foods. In the mountains, this is satisfactory.
Accommodations in Manaslu Circuit Trek
A less crowded trek is the Manaslu Circuit Trek. There are enough tea houses available at the Manaslu Circuit Trek to accommodate travelers. The two beds in each room are of the same sex, and there is an exterior bathroom. The rooms are very basic but tidy and clean.
The Manaslu Circuit Trekking Gears
The key to completing a hike in the Himalayas is having quality hiking gear. The following is a list of the essential items to pack:
Trekking gear: Trekking bag, day pack bag, sleeping bag resisted temperatures as low as -20 degrees (provided in rent if necessary), trekking boot, raincoat, sunglasses
Costume gear: hat, t-shirt, inner thermals, Philip jackets, Gore-Tex jackets, puffy down jackets, two or three pieces of good-quality pants/trousers, two or three pairs of high-quality socks, sports shoes, a sandal for your lodging, gloves
Cosmetic gear: Toothpaste, toothbrush, Shampoo, Comb, Sunblock, moisture soft cream, cold-weather creams, lip balm and, along with other items, Shaving cream and Razor for male, Menstrual cups/pad for women, Mirror and tweezers
Electronic gear: mobile/cell phone, head torch, solar charger, charge bank, camera (optional), extra battery
Equipment gear: crampon (optional)
Medicine gear: First Aid Kit
Additional things: water bottle/thermos, dry fruit and nuts, sneakers, mars rolls, bean items, biscuits, and some dry meat items.
DETAILED ITINERARY
Day 1: Kathmandu (1,350 meters) arrival
As soon as you landed at Kathmandu's Tribhuwan International Airport, we extended a warm greeting to you in the Himalayan country and pick you up to take you to your accommodation. If you arrive early in the day, you can explore Thamel's tourist attractions while enjoying a choice of Asian and Western cuisine, or you can visit a spa for a massage and a sauna bath. You can also choose to rest at your hotel. Hotel overnight
Includes: Bed and Breakfast
Day 2: Sightseeing around Kathmandu Valley
After having your first Nepali breakfast, our tour guide will pick you up from the hotel and take you on a tour of the Kathmandu Valley, which is home to several UNESCO World's Heritage Sites, including the Boudhanath stupa, Pashupathinath temple, Swoyambhunath Stupa, and Kathmandu Durbar Square. It is ideal to prepare your backpack for a trek after visiting these locations, and if you are lacking any essential equipment, Thamel is a good place to pick it up. We meet you in the lobby of your hotel at 5 o'clock in the evening to discuss some necessary details of your journey. Please pay any amount owed during our first meeting if you have any amounts. We organize for you to have a welcome supper at a cultural restaurant in Thamel, where you may sample Nepali cuisine while taking part in live cultural events.
Overnight at Hotel.
Includes: Bed and breakfast
Day 3: Drive to Machha Khola (869meters) from Kathmandu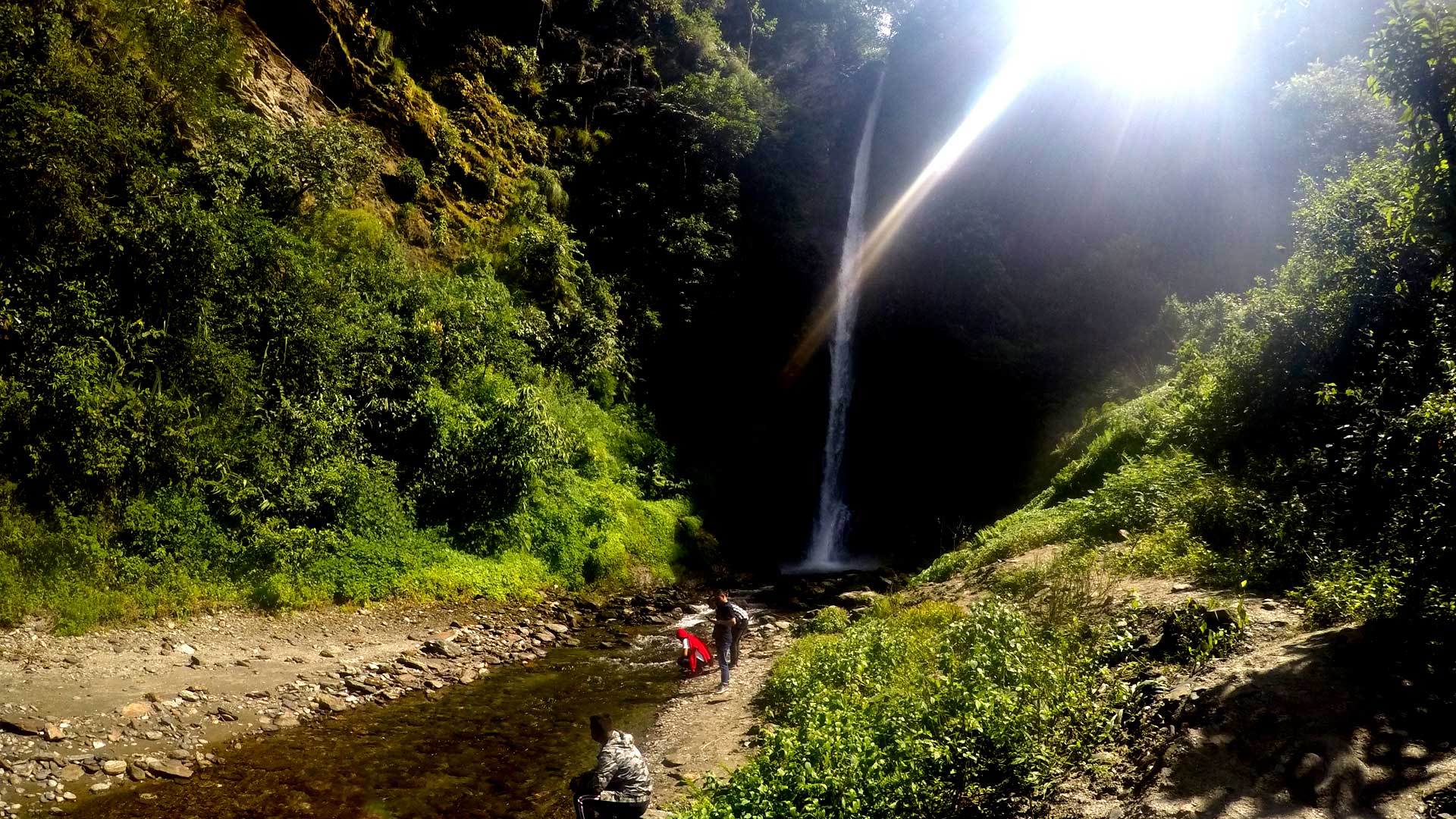 After eating breakfast in the early morning, your trekking guide will pick you up and drive you in a private Jeep for the 7-8 hours it takes to reach Machhakhola, where you will begin your trek. Despite the poor condition of the road, it is acceptable to travel through Nepal's small towns and experience the bumpy, dusty roads. Overnight at tea house. Includes: Every day includes 3-5 cups of tea or other similar beverage with bed, breakfast, lunch, and dinner. From the start of the walk to its ending, we serve you with all meals and lodging in accordance with our itinerary. Cold drinks, alcoholic beverages, beer, mineral water, and boiled water are not provided.
Day 4: Trek to Jagat (1,340meters)
Your first day of hiking should be careful because the trail is rocky, muddy, and narrow. We advise you to start each day by eating breakfast about seven in the morning. If you begin your walk earlier, you will arrive at your accommodation locations sooner or you will have the option to stop and rest, see additional locations if you so choose, and have more fun while traveling. From the beginning until the summit of Larkye-la, you follow the Budhigandaki River before descending to another river valley. Overnight at tea house.
Day 5: Trek to Dyang (1,860meters)
You can witness stunning fields and villages while walking a long day on the Budhigandaki River Valley's swinging bridges. Be careful at all times because the trail is narrow and rocky. If you wish to snap pictures or record videos, pause first, take pictures or stop the recording, keep your devices, and then begin to move. Many hikers break their camera, GoPro, and cellphone while recording video and taking pictures. So, follow to the guidelines for a safe journey. You have the option to stop your guide at any time if necessary. Overnight at Tea house.
Day 6: Trek to Namrung (2,630meters)
As you go along the river and jungle sides, naturally beautiful scenery exists all around you. For each and every move you take, you will be greeted by rural towns, farms, and several ecotourism tea houses with stunning flora and fauna. A close-up view point is indicated by the mountains you can see. Overnight at tea house.
Day 7: Trek to Lho village/Gaun (3,280meters)
This day, you merely walk for 3–4 hours before stopping to rest. At Lho Gaun, you can have lunch and spend the night. A small settlement called Lho Gaun is one of the greatest locations to see Mount Manaslu, the eighth-highest peak in the world, and the surrounding scenery. Visit the very old Buddhist monastery that is situated on the village's highest point. The monastery is a wonderful place to take in views of Mount Manaslu and the surrounding Himalayas. Every day, the magnificent up-close views of Mount Manaslu and the nearby peaks are visible from Lho Gaon and above. Overnight at tea house.
Day 8: Trek to Sama Gaun (3,520meters)
Following the highland path, you can see the magnificent Mount Manaslu and several other snow-capped peaks. You follow the path upstairs and into the small Syala settlement. There are two routes available after crossing the glacier bridge: one leads straight to Samagaon, while the other involves hiking to Phungen monastery. The Phungen Monastery, where Guru Padmasambhava meditated there and where Guru Rinpoche was frequently seen, is the ideal choice if you enjoy visiting highland Buddhist monasteries. The monastery is located at the base of Mount Manaslu, which is home to the rare animals Red Pandas and Snow Leopards. Continue your journey to Sama Gaun after visiting that side. Overnight at tea house.
Day 9: Acclimatization Day
Your free day is today. As a side excursion and for acclimatization, you might visit the Manaslu Base Camp site. The area surrounding the Manaslu Base Camp is truly quite fascinating, with the Buddhist monastery, Tibetan cultured community, the Birendra Taal/lake located right at Mount Manaslu's foothills and receiving water from the glacier there. The species of musk deer and blue sheep are among the animals that you can observe. As you can observe on this side, the Yak is the local symbol there. Overnight at tea house.
Day 10: Trek to Samdo (3,860 meters)
Walking today won't take long. After lunch, you arrive at Samdo. You can climb to the Tibetan border side as a side trip, which is also beneficial for adjusting your body's temperature. You can discover about marmots, yaks, farming of barley and potatoes, pasture, etc.  It is preferable to stop in Samdoo for two nights if you want to see the Tibet border region, and then spend your entire day hiking there. 
Day 11: Trek to Dharamsala (4,460meters)
As the final intersection and highest point, Dharamsala is challenging. This is where you stay and eat. Here, altitude sickness affects most hikers, so be cautious with your diet and clothing choices. Some stunning Himalayan landscapes are seen, as well as highland areas with yak and sheep grazing lands. When you cross Lho Gaun, we always prefer to take more liquid food, especially garlic soups. Take a lot of boiled water, black tea, and similar items to keep your body warm and prepared for the coming excursion. Overnight at Teahouse. 
12: Trek to Bhimthang (3,750meters)
Your walk across Manaslu's circuit will be difficult today. At 4 a.m., you begin your trip with a cup of tea or hot water, a typical breakfast, and a packed lunch. Despite being a long day's hike, the path is not too difficult and will make you feel like you're on an adventure. To reach your point Larkya-La-Pass, however, be assured and present (5,106m). Due to the heavy snowfall, it is incredibly difficult to hike here, so we sincerely advise that you visit during October to Mid-December, as well as during April and May and June, when the weather is perfect and the temperatures are pleasant. Overnight at tea house.
Day 13: Trek to Dharapani (1,963meters)
You spend the entire day traveling along the Marshangdi River's bank, passing through numerous tiny towns. This day, you stroll among pine trees and rhododendron vegetation. If the locals find you interested, you can enjoy the less-prominent mountains while conversing with them. You can stay in Dharapani, which is also the starting point and finishing point of the Manaslu and Annapurna Circuit Trek. At Dharapani, you share a celebratory beer on your final day of trekking.
Day 14: Drive back to Kathmandu by Private Jeep
After breakfast, you enjoy a full day's trip in a private Jeep back to Kathmandu. The road passes numerous communities while along the banks of the Trishuli and Marshangdi rivers. Without a doubt, someone is rafting down Nepal's renowned Trishuli River while you're traveling; nevertheless, you can also explore at the same time. You can also explore Kathmandu hotel for the night. Overnight at Hotel in Kathmandu. Include: Bed and Breakfast
Day 15: Free Day at Kathmandu
Your day off is on this day. You could decide to take a mountain flight in the Everest region, visit several locations in the Kathmandu valley, or simply rest at your hotel, depending on your preferences.
Day 16: Departure Day
According to our itinerary, this day is your final day in Nepal, so we pick you up and take you to the international airport in Kathmandu, where we say you farewell in the hopes that you will come back again. Both guests and their friends are welcome to join us.
FREQUENTLY ASKED QUESTIONS
1. How difficult is Manaslu Circuit Trekking?
The medium-difficult, high-adventure Manaslu Circuit Trek is located in the Nepalese Himalayas. Therefore, this trekking is intended for enthusiastic adventure seekers rather than expert hikers. Every day, you need walk at least 6 to 8 hours up and down on a rocky trail with an incredible close-up view. However, high-altitude sickness symptoms include feeling temporarily weak due to the thin air. Therefore, to successfully complete this trek over the Himalayas, one must be in good physical condition, good overall health, and a winning attitude.
2. Is Manaslu Circuit Trek suitable for individual or solo traveler?
Manaslu Circuit Trek is a restricted area in Nepal, and obtaining a special trekking permit with a certified local guide is required. Therefore, this walk is not suitable for solitary or independent travelers. As a result, you should register with a local travel agency in Nepal if you want to trek the Manaslu Circuit.
3. Do we suffer from high-altitude sickness in Manaslu Circuit Trek?
High altitude sickness is a type of illness that typically affects Nepalese people who travel above 4,000 meters in the Himalayas. When you cross 4,000 meters, you enter the thin air amid the desolate landscape. Less oxygen and more carbon dioxide are produced. You walk across a windy valley, which causes headaches, nausea, tiredness, fatigue, and occasionally vomiting. In these condition, you may suffer temporarily. We follow the some preventive and treatment measures against them. If you may not recover and have a serious illness like a heart condition, headache, or dizziness, we immediately decide against trekking to proceed you would be to descend right away.
4. What physical fitness is required for Manaslu Circuit Trek?
Manaslu Circuit Trek is the high route Himalayan trail in Nepal. It is the clockwise route to the world's 8th highest peak Mountain Mount Manaslu (8,163m). So, this trek is naturally challenging high route destination and requires the strong dedication for the mountains, perfect fit physical fitness and acceptance of the low land to challenging snowline to adjust to both dense air at low altitude and thin air at high altitude.
5. Do we need crampons for Manaslu Circuit Trek?
You generally won't need crampons if you visit the Annapurna Circuit Trek during the season. If you do it during the winter and monsoon months and regular heavy rain, snowfall happen in during season you'll really need it.
6. De we need oxygen in Manaslu Circuit Trek?
The Manaslu Circuit Trek's path has greenery vegetation, naturally clean environment. Therefore, an oxygen is not required for the Manaslu Circuit Trek. You could have symptoms of high altitude sickness, such as headache, nausea, vomiting, dizziness, exhaustion, loss of appetite, and poor sleep. You shouldn't worry about any potential issues. You probably experience it temporarily. If it happens longer, we advise you to back low altitude place.